In the last few decades, MMA has exploded in popularity and has become a worldwide phenomenon, especially with the UFC. While we've seen many fighters achieve greatness, behind their success is a great MMA gym that helped to guide their path.
With that in mind, it makes you wonder what are the best MMA gyms in the world? That's what I'm here to find out. I've created a list of 20 gyms that have excellent facilities, world-class coaches, and a track record of creating incredible fighters. Let's see what they are!
What To Consider When Choosing an MMA Gym?
Not everyone will have access to a top MMA gym that has created several world champions, so what do you need to consider? Once you work out the MMA gyms in your location, it's important to see what they offer, their equipment, and their fees.
An elite gym will have coaches and instructors who have a track record of getting the most out of a fighter's talents. It will also have a competitive culture but one that is supportive and welcoming so you can enjoy your MMA journey.
All of the gyms on this list tick all of these boxes. They are exceptional places to learn and their dedication has led to a huge amount of success. Let's start our countdown of the 10 best MMA gyms in the world.
20 Best MMA Gyms In the World
20. Brazilian Top Team
Country: Brazil
Location: Rio de Janeiro
Founder: Murilo Bustamante, Ricardo Libório, Mário Sperry, Luis Roberto Duarte (2000)
Notable Fighters: Vitor Belfort, Murilo Bustamante, Paulo Filho
Website: https://www.braziliantopteam.net/
The legendary Gracie family has a lot of influence on this list, including with Brazilian Top Team. This is an academy that was set up by some of his former students and has gone on to have many branches around the world in a wide number of countries.
While still based in Rio De Janeiro, they have schools in North America, Europe, and Australia. While their expertise is in Brazilian Jiu-Jitsu, they are also first-rate MMA teachers which is shown by them having plenty of world champions in their roster.
19. Cesar Gracie Jiu-Jitsu
Country: USA
Location: Pleasant Hill, California
Founder: Cesar Gracie (1992)
Notable Fighters: Diaz brothers, Dave Bautista, David Terrell
Website: https://www.graciefighter.com/
Another influential member of the Gracie family is Cesar. As with many entries on this list, he opened up his gym in California and it has become home to many fighters who have graced the UFC, such as the notorious Diaz brothers.
With it being Gracie-influenced, it's no surprise this is the perfect place to learn BJJ. If you're a natural striker, this gym will help to turn you into a well-rounded fighter. It's clear that you're spoiled for choice if you're looking for the best MMA gyms in California.
18. Evolve MMA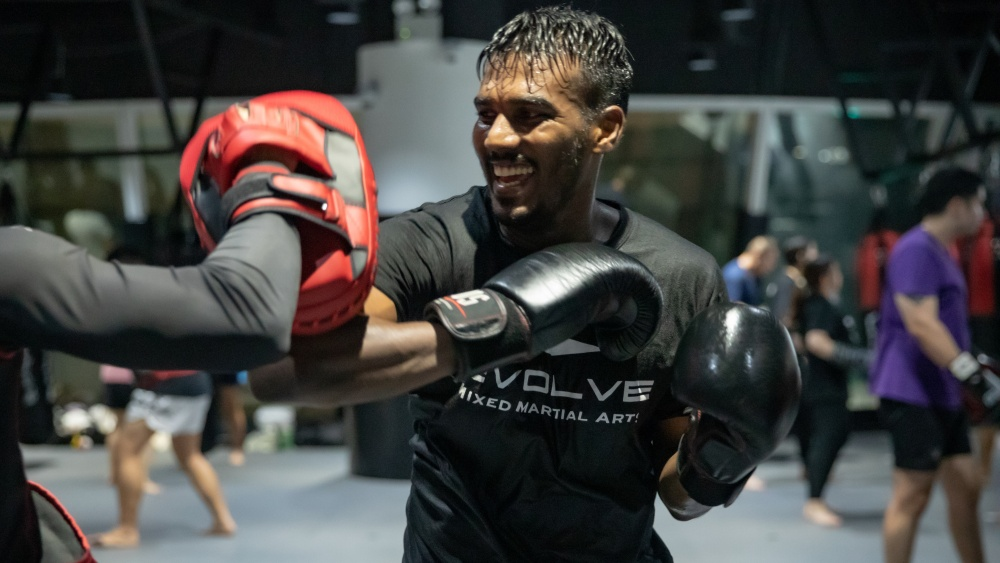 Country: Singapore
Location: Singapore
Founder: Chatri Sityodtong (2009)
Notable Fighters: Demetrious Johnson, Rafael Dos Anjos, Shinya Aoki
Website: https://evolve-mma.com/
For those in Asia who are looking for a world-class MMA gym, you can't go wrong by traveling to Singapore. Founded by Chatri Sityodtong in 2009, Evolve quickly established itself as a premium MMA gym before expanding.
They have a total of five locations in Singapore and teach a wide range of martial arts, including MMA. With a long list of fantastic coaches, including former world champions, anyone attending this gym is giving themselves the best chance of greatness.
17. Roufusport
Country: USA
Location: Milwaukee, Wisconsin
Founder: Duke Roufus (2005)
Notable Fighters: Anthony Pettis, Tyron Woodley, Rose Namajunas
Website: https://roufusport.com/
With his gym, we're heading back to the USA, with this gym situated in Wisconsin. As with a few gyms on this list, they have expanded their empire and Roufusport now has locations all across North America, along with gyms in Europe and Australia.
The original gym was the mastermind of coach Duke Roufus and built its reputation on creating some incredible fighters. If your location is a problem, they even offer an online training academy for those looking to improve their skills at home.
16. Serra-Longo Fight Team
Country: USA
Location: Long Island, New York
Founder: Matt Serra, Ray Longo (1990)
Notable Fighters: Matt Serra, Chris Weidman, Aljamain Sterling
Website: https://serrabjjacademy.com/ and https://www.law-mma.com/
This is a wonderful USA MMA academy that is split over two locations, with both of them situated in Long Island, New York. One of the longest running MMA gyms, it was the brainchild of UFC Hall of Famer Matt Serra and his former coach, Ray Longo.
Over the years they have achieved plenty of success. All their hard work was shown with Chris Weidman's stunning victory over Anderson Silva, and in recent years, with the championship reign of Aljamain Sterling.
15. Straight Blast Gym Ireland
Country: Ireland
Location: Dublin
Founder: John Kavanagh (2001)
Notable Fighters: Conor McGregor, John Phillips, Frans Mlambo
Website: https://www.sbgireland.com/
For those dreaming of being the next Irish MMA star, Straight Blast Gym Ireland is the best place to be. Situated in Dublin, it is a part of the Straight Blast Gym franchise which was started by Matt Thornton in 1992.
Straight Blast Gym Ireland has proved itself to be an elite gym under the guidance of legendary coach, John Kavanagh. Kavanagh is a black belt in both karate and BJJ and has used those skills to teach many fighters including, of course, Conor McGregor.
14. Black House MMA
Country: USA
Location: Redondo Beach, California
Founder: Ed Soares, Carlos Barreto, Jorge Guimaraes, Rogerio Camoes (2006)
Notable Fighters: Anderson Silva, Junior dos Santos, Nogueira brothers
Website: https://www.blackhouseredondo.com/
A few MMA places start their life in another country before moving to the USA and that's what happened to Back House. Originally starting in Brazil, it moved to California while helping to form many careers including the Nogueira brothers and the legendary Anderson Silva.
Many of the world's best have fine-tuned these skills with Black House and they've brought that same commitment to excellence to America. They have a wide range of classes available with world-class coaches who'll bring out your talent for MMA.
13. Jackson-Wink MMA
Country: USA
Location: Albuquerque, New Mexico
Founder: Greg Jackson (1992)
Notable Fighters: Andrei Arlovski, Jon Jones, Rashad Evans
Website: https://jackson-wink-mma-academy.webflow.io//
Another one of the older MMA academies, Jackson-Wink was established in 1992 and there have been a huge number of MMA fighters that have walked through their doors. Their elite coaches help to quickly turn raw fighters into polished diamonds.
It's seen as one of the most respected gyms in the world, and for good reason. They offer you the chance to train alongside top talents and give you the best chance to become one yourself with their wide range of classes.
12. MMA Factory
Country: France
Location: Paris
Founder: Fernand Lopez (2013)
Notable Fighters: Francis Ngannou, Ciryl Gane, Taylor Lapilus
Website: https://www.mma-factory.fr/
Want to learn MMA in one of the most beautiful cities in the world? If so, you can follow in the footsteps of the likes of Francis Ngannou by training in the MMA Factory. The establishment has become the go-to gym for French fighters.
Their list of star names is quite impressive given that the sport isn't huge in the country. The head coach is Fernand Lopez who has shown himself since 2013 to be one of the best in the game at his rapidly expanding gym.
11. Nova União
Country: Brazil
Location: Rio de Janeiro
Founder: André Pederneiras, Wendell Alexander (1995)
Notable Fighters: Renan Barão, José Aldo, Claudia Gadelha
Website: https://www.novauniao.com/
With Brazilian Jiu-Jitsu being a huge component of MMA, it's no surprise that the country has so many great MMA gyms. While the competition is fierce, I'd have to say Nova União is the best Brazilian MMA gym right now.
José Aldo helped to give prominence to the gym but that has continued with modern fighters such as Claudia Gadelha. It's a top professional training center where you can learn how to master BJJ along with other MMA disciplines.
10. Team Alpha Male
Country: USA
Location: Sacramento, California
Founder: Urijah Faber (2004)
Notable Fighters: T.J. Dillashaw, Cody Garbrandt, Deiveson Figueiredo
Website: https://teamalphamale.com/
Getting into the top 10, we start to see the gyms that are dominating the game right now with some of the top MMA teams. Team Alpha Male is clearly one of them. Founded by another Hall of Famer in Urijah Faber, the gym has gone from strength to strength since its foundation in 2004.
One of the many world-class gyms in California, the great fighters produced in this gym is a very long list. That's in no small part due to the exceptional coaches they have along with a range of classes and the latest equipment.
9. Tristar Gym
Country: Canada
Location: Montreal, Quebec
Founder: Conrad Pla, Michel Lavallée, Ron Di Cecco (1991)
Notable Fighters: Georges St-Pierre, Miguel Torres, Rory MacDonald
Website: https://tristargym.com/
Georges St-Pierre helped to put Canadian MMA on the map and the gym he mostly trained out of was the Tristar Gym in Montreal. For those in Canada with aspirations of being a UFC gym, living close to Tristar is a huge bonus.
That's in no small part due to the brilliant coach Firas Zahabi, who now owns the gym. They have a range of classes and aside from general MMA work, you can focus on BJJ, striking, Greco-Roman Wrestling, and more, in order to be the perfect rounded fighter.
8. Xtreme Couture
Country: USA
Location: Las Vegas, Nevada
Founder: Randy Couture (2006)
Notable Fighters: Sean Strickland, Miesha Tate, Vitor Belfort
Website: https://www.xcmma.com/
Is there a bigger legend in UFC than Randy Couture? Not content with being a pioneer of the sport and one of its best ever fighters, he's also become an actor and opened up one of the best MMA gyms in the world.
Headquartered in Las Vegas, the gym has become known for polishing great fighters while also allowing anyone to fulfill their dream of being an MMA star. The LA gym is huge and provides a welcoming atmosphere for fighters at all stages of development.
7. Kings MMA
Country: USA
Location: Huntington Beach, California
Founder: Rafael Cordeiro (2010)
Notable Fighters: Cris Cyborg, Wanderlei Silva, Mauricio Rua
Website: https://kingsmma.com/
Another of the Californian MMA gyms, Kings MMA was founded by Rafael Cordeiro and it has become a home to many Brazilian fighters who have dreamed of UFC success in the USA. Some of its most notable students include the likes of Cris Cyborg and Wanderlei Silva.
A multiple Coach of the Year winner, Cordeiro and his staff know how to unlock the potential of any fighter. It's truly one of the best MMA camps and offers many programs, including those who have kids wanting to start their MMA journey.
6. Kill Cliff FC
Country: USA
Location: Deerfield Beach, Florida
Founder: Henri Hooft, Greg Jones (2017)
Notable Fighters: Kamaru Usman, Robbie Lawler, Luke Rockhold
Website: https://www.killclifffc.com/
In its short history, Kill Cliff FC has struggled to settle on a name, previously being called both Sanford MMA and Hard Knocks 365. But whatever it's called, the organization knows how to produce world-class fighters, with multiple world champions in its roster.
The second-best MMA fighting gym in Florida, it is sprawled over a large area, allowing everyone the space to do their own thing. If you want to be trained by elite coaches while surrounded by elite athletes, you can't go wrong with Kill Cliff FC.
5. Tiger Muay Thai
Country: Thailand
Location: Phuket
Founder: William McNamara (2003)
Notable Fighters: Petr Yan, Valentina Shevchenko, Fabrício Andrade
Website: https://www.tigermuaythai.com/
Even if you're not from Thailand, Tiger Muay Thai offers you the chance to train in one of the most beautiful locations in the world. This huge gym attracts fighters from all over the world and can even set you up with accommodation.
There is a huge range of facilities and the gym has a diverse set of classes to choose from. It's no wonder that the likes of Petr Yan and Valentina Shevchenko came here to learn their trade. With a wide range of fantastic coaches, this is easily one of the best MMA training gyms in the world.
4. American Kickboxing Academy
Country: USA
Location: San Jose, California
Founder: Javier Mendez (1985)
Notable Fighters: Daniel Cormier, Khabib Nurmagomedov, B.J. Penn
Website: https://www.americankickboxingacademy.com/
When you hear that both Daniel Cormier and Khabib Nurmagomedov trained at this gym, you know that it's good. While it has 'kickboxing' is in the name, this is very much an MMA gym that can teach you all the specialties you need to make it in the UFC.
Located in San Jose, it has many great trainers who will get the most out of your talent. Along with fantastic adult classes, they also have an excellent youth setup if you want to get your kids involved. It makes it a world-class gym for fighters of any level or age.
3. City Kickboxing
Country: New Zealand
Location: Aukland
Founder: Eugene Bareman, Doug Viney (2007)
Notable Fighters: Israel Adesanya, Alexander Volkanovski, Kai Kara-France
Website: http://citykickboxing.net.nz/
While this list has many of the best MMA gyms in the US, this is the best one outside America. City Boxing is the place to be for any fighter in New Zealand. Opened in 2007, it has proved itself to be a top-class gym that can offer you whatever you need whether that is specialist BJJ tutelage, strength and condition, or general MMA work.
The level of training you'll receive here is elite and it has been responsible for creating many great fighters such as Israel Adesanya and Alexander Volkanovski. The facility is huge at 4,500 square feet and has everything you need for top-level training.
2. American Top Team
Country: USA
Location: Coconut Creek, Florida
Founder: Dan Lambert (2001)
Notable Fighters: Dustin Poirier, Joanna Jędrzejczyk, Jorge Masvidal
Website: https://americantopteam.com/
Coming at number two on this list is American Top Team, which was founded in 2001 by Dan Lambert. It was part of a breakaway from Brazilian Top Team but the two don't have any official affiliation. The main gym is in Florida but has expanded with academies across the USA.
They have coached many of the world's greatest fighters but sadly the main gym in Florida is not open to the public. Thankfully their affiliate academies are and they can offer a similar level of expertise with large gyms and the latest equipment.
1. Alliance MMA
Country: USA
Location: Chula Vista, California
Founder: Brandon Vera (2007)
Notable Fighters: Dominick Cruz, Alexander Gustafsson, Jan Błachowicz
Website: https://www.facebook.com/AllianceMMAgym/
My number one pick must go to Alliance MMA. It's probably the most famous MMA gyms in the world and has done an incredible job of developing fighters. It's run by head coach Eric Del Fierro who is one of the most respected trainers in the industry.
The staff here are friendly and it has a great environment in which to learn. As we've seen, there are many great gyms in California but Alliance MMA stands above the others. They offer training for any level and it's the perfect spot to train if you have raw MMA talent.
How To Find the Best MMA Gym For You?
Want to find the best MMA gym for your needs and skill level? If so, here's what you need to be considering:
Research and List – The first step is to research the MMA gyms in your local area and make a list of the ones you think are suitable. Search engines and social media is usually the best option for this, but it's also a good idea to ask for recommendations.
Skill Level – What is your current skill level and how does that match up to the MMA gyms you're looking at? For example, if you're a complete novice, look for MMA gyms for beginners that have classes specifically for new starters.
Instructors' Credentials – A good way to get an idea of the strength of a gym is to look at a list of their instructors and the credentials they have. As you develop your skills, you'll want to be in the hands of experienced and qualified instructors.
Class Schedule – We all lead busy lives which is why you need an MMA gym with a class schedule that fits into your life. Finding a gym with more flexible training hours may be more appealing than one with a more rigid structure.
Cost – Of course, you'll also need to consider your budget. MMA gyms with a worldwide reputation are going the be pricier than local gyms. Choose one within your budget and remember that you can always change gyms if you're looking for an upgrade.
Reviews – One of the easiest ways these days to find the quality of goods or services is by checking online reviews. This will give you a great insight into those who have used the gym. As mentioned, you can also ask your friends and family for recommendations too.
Personal Goals – Is your goal to have fun while practicing MMA or do you aim to become world champion? If it's just for fun and training then having elite-level coaches will be less important and cost, location, and schedule will be more decisive factors.
How To Find the Best MMA Gym For Your Child?
When looking at an MMA gym for your child, you need to look at all the factors above along with a few other considerations. The first thing to check is that they have age-appropriate classes that are suitable for them.
Along with this, you'll also want to know if you'll be able to watch the classes, and if they have trial classes to see how comfortable your child is in the gym. The gym should have a positive atmosphere to ensure they come out of there with a smile on their face.
On top of that, you'll want to check that the gym aligns with your values and has measures in place to keep your child as safe as possible. Feel free to ask as many questions as you need and if you get a bad vibe, don't be afraid to try out another gym to see if it's a better fit for your child.