To the uninitiated, boxing may seem like a basic sport when two people just try and punch each other as much as possible. However, those that know the sports see it as the sweet science, where immense skill and technique lie behind the courage and brutality.
But what are those techniques, and do boxers have different styles? Well, here we're going to have a close look at the 7 famous boxing styles. We'll also see which boxers mastered those styles and the attributes required.
Let's get started by taking a look at just how many different types of boxing styles there are.
How Many Boxing Styles Are There?
This is a difficult question to answer as each boxer will have their own style. That said, it's generally accepted that there are 4 different types of boxing styles, which are the out boxer, pressure fighter, slugger, and boxer puncher. However, boxer puncher is a combination of styles, and therefore some may not count this as a pure style.
On top of those are other sub-styles, such as the counter puncher. Due to this, some may say there are 3 or 4 styles, many will say 7, but others may argue that there are unlimited styles, as everyone is different.
Here we're going to keep it quite simple. We'll look at those 4 main styles along with the 3 most famous sub-styles that complement them. Let's take a look!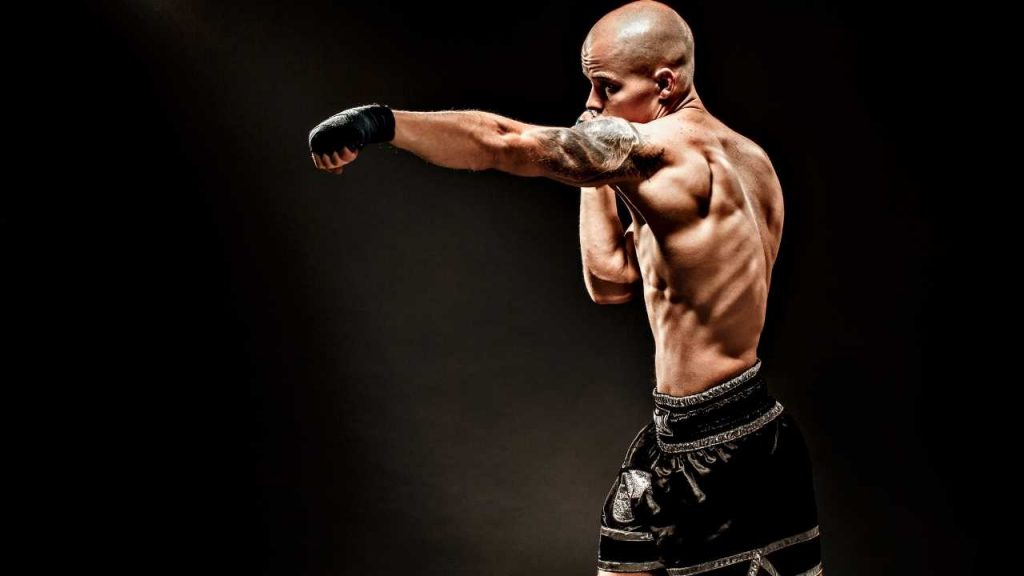 Top 7 Boxing Styles You Need To Know
1. Pressure Fighter
Famous Pressure Fighters: Joe Frazier, Gennady Golovkin, Julio Cesar Chavez Sr.
Best For: Aggressive fighters that trust their technique
Need: Courage, skill, and a solid chin
Pros: Very hard to fight against, control the fight
Cons: Can get hit often, requires hard work
In terms of excitement, it doesn't usually get much better than the pressure fighter. These boxers will apply pressure for the whole fight, which means there will rarely be a dull moment. This is especially true when two pressure boxers go up against each other.
To be a pressure fighter (also called an in boxer), you need to have a lot of skill but also bravery, as infighting boxing can be brutal. Here you'll most likely be fighting on the inside, which means you'll be in striking range of your opponent but crucially, they'll be in your striking range too.
Ultimately that means you're both going to get hit a lot. You are relying on your superior punching power, bravery and timing to get the victory. If you're against an opponent who is constantly on the back foot, this means you can easily control the fight.
Joe Frazier was perhaps the best example of this as he never stopped coming toward his opponent, which can be shown when he beat Ali. This made him very difficult to fight against and mostly, he was able to get opponents to have the fight he wanted and not the one they hoped for.
Sub-Style: Swarmer
Famous Swarmers: Mike Tyson, Roberto Duran, Ricky Hatton
Best For: Those with a lack of technique or a height disadvantage
Need: Huge stamina, strength, a lot of bravery, and a hard punch
Pros: Nightmare for opponents, very effective
Cons: You will get hit, can get dirty
This is an extreme example of being a pressure fighter. This is more than just getting on the inside, this is getting right into your opponent and trying to maul them. Some opponents find this relentless pressure impossible to deal with as they don't get a moment to breathe.
Swarmer boxing often a good tactic for those who either lack elite natural talent or often have a height disadvantage. Ricky Hatton was a good example of the former. He wasn't blessed with the best technique but would relentlessly pursue his opponents, which was usually extremely effective.
Tyson was someone who used this style due to being smaller than almost all of his opponents. He'd immediately take away their advantage of range by walking straight to his opponents and getting in close. Boxers, such as Marvis Frazier, just couldn't cope.
Such a style takes a lot of effort and you'll often see swarmers reverting back to regular pressure fighters in the later rounds. For those who don't mind getting close to their opponent, butting heads, and using their strength, the swarmer can be a great idea.
2. Out Boxer
Famous Out Boxers: Klitschko brothers, Muhammad Ali, Tyson Fury
Best For: Those with a long reach, distance control, and patience
Need: A strong jab, stamina, and excellent footwork
Pros: Control the fight, make life hard for your opponent
Cons: Can be boring
The out boxing style is the opposite of a swarmer. The plan here is to stay outside of your opponents striking range by staying out of arms reach. You can generally only really do this if you have a long range that is at least longer, if not the same, as your opponent.
If you have a similar, or smaller range (the length of your arm), then you'll need incredible footwork and reflexes. The Klitschko brothers famously used this style to dominate the heavyweight division, which was often labeled as boring.
Wladimir Klitschko tried to use this style against Tyson Fury, but the Englishman was taller and had a longer range. Fury used the same style and ended up beating him at his own game. At 6 ft 9 in, it's very unlikely Fury will ever have to worry about anyone doing the same to him!
Muhammad Ali was the perfect example that the style of an outboxer doesn't need to be boring. He would fight on the outside but was always happy to step in and engage with his opponent. He was a master at controlling distance, which you can only do if you have a great jab.
Sub-Style: Counter Puncher
Famous Counter Punchers: Floyd Mayweather Jr, Roy Jones Jr, Bernard Hopkins
Best For: Those who lack elite power but not speed
Need: Lightning reflexes, sharp footwork, fast hands
Pros: Take minimal damage, frustrates opponent, easy to score points
Cons: Boring if the opponent doesn't engage, difficult to master
Others like to sit on the outside but not engage. They expect opponents to come to them, these are called counter punches. To counter punch effectively means you only throw a punch after your opponent has thrown one. This is because their guard will be down and they will be vulnerable.
Very few fighters have this style, as it's almost anti-fighting, which is something that doesn't come naturally to most boxers. It requires a lot of patience and mental discipline to ensure that you're only ever throwing punches at the right time. A counter puncher will throw their own shots but these are often to control distance and at minimal risk.
It also needs near-superhuman reflexes and timing. When someone throws a punch, you have to be immediately aware of where it's going to land, how you can avoid it, and how you can punch back. Due to these factors, counter punches also need to be quick.
The great example of this was Mayweather Jr. vs. Ricky Hatton. Hatton tried to swarm him, but Mayweather waited for his moment. For the knockout blow, Mayweather immediately saw Hatton's left hook coming, moved his head while simultaneously throwing a left hook of his own.
That speed, awareness, timing, and movement are extremely difficult to master, and almost impossible to defeat. And, with Floyd, no one ever found a way past it.
3. Slugger
Famous Sluggers: George Foreman, Deontay Wilder, Rocky Marciano
Best For: Those with huge power
Need: Heavy punches, timing, patience
Pros: Devastating knockouts, exciting to watch
Cons: Can lack effectiveness, easy to counter
If a counter puncher is the master of waiting for the moment, a slugger wants to make the moment. There is often very little nuance with the slugger boxing style. They want to knock you out and will do everything in their power to make that happen.
This can make them incredibly intimidating but also vulnerable. Deontay Wilder is the perfect example of a modern-day slugger. A lesser fighter such as Bermane Stiverne has no answer to one of the most powerful and ferocious fighters of all time.
But when Wilder came up against Tyson Fury, however, the slugger found it hard to land shots against a superior boxer. Fury was able to counter his wild punches which saw him win two fights of their trilogy by knockout, and drawing the other.
Many see Rocky Marciano as a slugger, but he also had plenty of skill. He threw devastating shots but was able to do so with patience and timing. He showed that a slugger could be an elite fighter, as he ended his career unbeaten on 49 wins.
4. Boxer Puncher
Famous Boxer Punchers: Terence Crawford, Sugar Ray Leonard, Marvin Hagler
Best For: Those with technique and power
Need: Both power and speed, patience and aggression
Pros: An adaptable style, can attack without getting hit
Cons: Can confuse yourself, difficult to get the right balance
The boxer puncher is an elite boxer, they will be able to change their style to counter their opponent's strengths and use it to their advantage. A boxer puncher will most likely be great at fighting on both the inside and outside.
With this style, you need to be adaptable and have a high level of natural talent as you'll need to be adept in all areas of boxing. This includes having decent power and strength but also combining that with agility and footwork.
Both Sugar Ray Leonard and Marvin Hagler were wonderful examples of this. When they fought it was dubbed as the 'Super Fight' and it lived up to the hype. It was a wonderful example of two boxer punchers at the height of their powers.
As a boxer-puncher, you need to have the presence of mind to read your opponents and be flexible in the ring. This can be hard to get right and you can easily mix up your boxing stances and techniques if you're not careful.
Sub-Style: Complete Fighter
Famous Complete Fighters: Oleksandr Usyk, Saúl "Canelo" Álvarez, Vasyl Lomachenko
Best For: Those with all the right attributes
Need: Everything
Pros: Adaptability, frustrates opponents, impossible to defend against
Cons: None
This is a boxer that can do it all, and all at a world class level. They don't solely rely on one style and instead, are always happy to change it up. They are incredible as a pressure fighter, are wonderful fighting on the outside but can still slug it out or counter punch if they need to.
It's simply an extension of a boxer puncher, as these fighters can seamlessly switch between different fighting styles in the blink of an eye. With such boxers, you can't lack in any way, you need it all.
In modern times, no one personifies this more than Oleksandr Usyk. As a cruiserweight, he was often happy to be a pressure fighter or a boxer puncher. Recently as a heavyweight, he's happy to switch it up between being an out boxer and a counter puncher.
Not many people can be complete fighters, as you have to have supreme natural talent.
FAQs
What is a boxer puncher?
A boxer puncher is someone that can effectively combine styles. They may be great fighting on the outside like an out boxer but they can be equally effective coming inside and applying the pressure. This adaptability has been the hallmark of some of the best boxers of all time, such as Terence Crawford and Sugar Ray Robinson.
What is the best boxing style?
Boxers such as Rocky Marciano, Floyd Mayweather Jr, and Muhammad Ali are just three examples of boxers who all achieved greatness with very different styles. Therefore, it's almost impossible to say what the best boxing style is. What works for one fighter won't work for another, and there are boxers in the hall of fame with all these different fighting styles.
How to find the best boxing style for me?
You'll most likely naturally find a particular style. If you have immense power and love letting your hands go, you're probably a slugger. If you love coming forward and engaging with your opponent, you may be a pressure fighter. You can try around with different styles in sparring, but you'll naturally find a style that suits you.
What kind of boxing style does Muhammad Ali use?
Muhammad Ali was an out boxer. He loved to use his feet, keep his opponents at a distance, and control the fight. That being said, he was still superb when fighting on the inside, and as his speed diminished, he became an excellent counter puncher. These roles can be hard to define, but Ali was mostly an outside fighter.